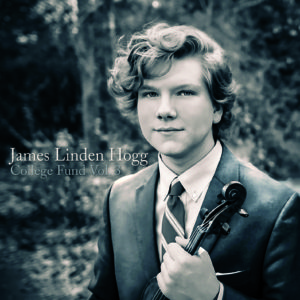 Thirteen songs on James Linden Hogg's College Fund Volume 3 makes for an exciting treasure from a talented young man sharing his music to help pay for his college education. The best anecdote comes from a fan who said, "Finding this album among the many out there is like stumbling onto a mom-and-pop vintage bookstore on a rainy morning and discovering the perfect shelter from the storm outside. Hidden here is something unexpected that makes you smile, knowing that the stereotypical label of the youth of today, doesn't work on this one."
James Linden Hogg's College Fund Volume 3 opens on the high seas with a conscious warning "When the Ship Comes In," followed by an accordion-driven lighthearted Teddy Roosevelt era "I Wonder Who's Kissing Her Now" in celebration of his Grandparents 70th wedding anniversary. Seeking godly direction is an 8th-century Irish hymn "Be Thou My Vision." Celtic influence on the next track "Arthur McBride," is a seven-minute clash of two young English cousins, and their almost recruitment by the boisterous King's army sergeant. Always a wedding standard, "Pachelbel's Canon in D," features Hogg's violin blended with accordion and a hint of the banjo. Mandolin solo introduces the Robert Burns anthem, "Auld Lang Syne," guaranteed to get a radio spin once per year close to midnight. Speaking of radio, many radio music directors have compared Hogg's youthful energy, fiddle assassin style, and love of outdoors to John Denver. "Thank God I'm a Country Boy" is an event song featuring some of country music's biggest artists joined in order; Larry Stewart (Restless Heart), Hall of Fame Inductee Ricky Skaggs, Shenandoah's Marty Raybon, and Billy Dean. Singing chorus is Herb Pedersen (Desert Rose Band) who sang on Denver's original recording more than 40 years ago! Gratefulness beckons Hogg to sing "Come Thou Fount." written by the 18th-century pastor and hymnodist Robert Robinson. "In the Bleak Midwinter," written by English poet Christina Rossetti 1872, Hogg delivers the cold bleakness arresting imagery – 'Water like a stone' – freezes time if but for a few moments that Christmas. "The Church Downtown" is another original penned story by Hogg that bemoans the sad tale of a beautiful cathedral that no one attends anymore and looks to be sold and repurposed for other reasons than the gathering of Sunday worshipers. "The Foggy Dew" is an Irish instrumental lament that chronicles the Easter Uprising of 1916. It encourages Irishmen to fight for the cause of their country, rather than for the British Empire. Kelli Carruth Miller's book, "Green Grass, Still Waters" inspires the words Hogg penned of the same name from Psalms 23. Closing out the album is the traditional hymn, "Morning Has Broken" made famous in the 70's by Cat Stevens with Hogg delivering his pleasant rendition of newness, and joy.
Louisiana State Fiddle Champ 18-year-old James Linden plays a 230-year-old Italian violin like it was custom made just for him, along with a Gibson F-5 mandolin, Gibson TB3 arch top prewar banjo, Irish penny whistle, and Steinway piano. His father Jim Hogg plays a Bourgeois dreadnought guitar. Multi-Grammy winner Mark Fain plays bass. This warm music is Old World, influenced by special friend and kindred spirit Jeff Taylor (Time Jumpers). His tasteful arranging, melodic piano, penny whistle, and skillful accordion as well as Jim Prendergast's folk guitar, pave the way for Hogg's robust yet gentle vocals proclaiming a message of comfort, healing, conflict, hope, joy, and love. Curl up in a quilt, get a good book and set this album on repeat until the seasons change.